It's no secret that the new "thing" in skin care is incorporating organic products into your skincare regimen. Everyone is raving about products that give a delicate yet deep cleanse, and leave skin feeling fabulously flawless. What makes natural skin care so enticing is the fact that these skincare products are made with ingredients such as vitamins, antioxidants, and more, that our skin naturally needs and is good for us.
Having glowing and healthy skin is an asset, and being able to accomplish that effortlessly vibrant look by using natural products has created a wave of interest when it comes to natural/organic beauty and skincare. There is no greater feeling than revitalizing and cleansing your skin with a lightweight, delicate, and high-quality soap or body wash that is also good for you while providing an everlasting fresh feeling.
Well, we had to try adding an all-natural soap to our skincare regimen to see what all of the excitement is about! Foxbrim Perfect Natural Soap & Wash is awesome all natural botanical soap that contains a number of ingredients which work in combination to thoroughly cleanse and rejuvenate your skin, while still remaining soothing enough for sensitive and reactive skin.
Aside from this soap having a smooth and creamy texture, which is super lightweight and gentle when applying to your skin- this body wash is also made of natural and organic ingredients which are great for your body and skin! The soap contains 100% all natural botanical ingredients and 98% organic ingredients. If you are unsure of what the difference between natural and organic is, to give an overall summary; the difference between organic ingredients and natural ingredients is that organic ingredients are made in accordance with a set of strict guidelines provided by the USDA's Natural Organic Standards Board. Organic ingredients have stern guidelines such as no artificial coloring, no artificial flavoring, and more, whereas natural ingredients do not have such strict rules/restrictions to abide by.
We tried out this natural soap & body wash for our daily body/face cleansing and were pleased with the overall experience. This is a liquid soap made for your body and face and is packaged in a bottle that contains a pump for easy application of the soap onto your hands, which also helps to avoid any mess that can happen when you have to grab the full bottle to pump out some soap. The packaging is perfect because it makes it easy to use, and we love to help make beauty easy for you! Your skin is a gentle and sensitive part of your body, so using a soap that is soft, gentle, not too thick yet not too watery, and contains natural and organic ingredients which feed your skin necessary vitamins and nutrients- that is a WIN for YOU! As MyTopFace beauty experts, we are well versed in what good quality feels like, so the way the soap leaves our skin feeling beautiful after each use plays a huge role in our overall feeling about it. To our delight, the soap left our skin feeling smooth and exfoliated, as though it had been thoroughly cleansed and fully fresh, and most importantly, there was no over-dryness. It is great at cleaning away excess dirt/oil/makeup, which makes it the perfect facial cleanser to use morning and night after a long day of your face being exposed or having makeup on. Being that the soap is made from natural and organic ingredients, it has a positive impact on your skin and contributes to the evening of your skin tone, while relaxing your pores to leave your skin looking youthful and fresh.
After showering with this product all you need to do next is apply a subtle yet effective moisturizer and toner to prep your skin for some makeup application. We tried out this Foxbrim Orange Blossom Water Toner which goes perfectly with our natural soap. This toner is lightweight, has a soothing feel when applied to the skin, and is perfect for before using makeup.
The organic ingredients found in this toner help to stimulate the cells in your skin for rejuvenation and healing, while relaxing your pores to minimize their appearance and balance your skin tone and texture. MyTopFace beauty experts loved this toner! After using it, you'll be ready to fierce-fully put yourself together and apply breathtaking makeup.  For some guidance to perfecting your look, you can tune into one of our makeup tutorials with one of the amazing beauty experts from CHICSTUDIOS for a thorough and simple guide to the perfectly flawless face-beat, with just the right amount of precise contour and stunning highlight.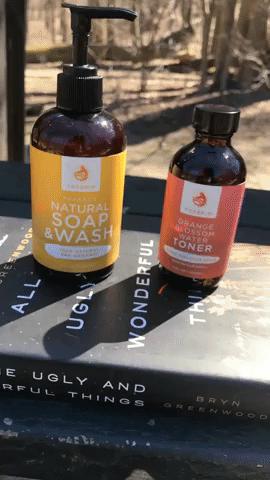 With a fresh feeling of cleanliness, a soothing touch of light moisture, and the finishing touch we all love and appreciate (a super-cute fresh face of makeup), you, just like all of our MyTopFace beauty experts, can be ready to hit the streets and paint the town red! Using these two natural and organic products from Foxbrim is the perfect first step towards a healthy and vivacious skin, that makes you look and feel your best.