It's not every day we find a beauty company that produces great skincare products and healthy, long-lasting makeup. Fortunately, our MyTopFace experts experienced just this with AprilSkin: a natural Korean skincare and cosmetic brand that makes a variety of different products from skincare to makeup to even beauty tools. The brand name symbolizes what it aims to do: welcome in new skin the way April welcomes in the spring.
Speaking of spring, our MyTopFace experts are so looking forward to the warm weather and would like to greet it with wide eyes and long lashes. We tested the AprilSkin Magic Cara Mascara hoping it would create this impact. This product comes with a curved double comb. The formula contains clay and beeswax which gives buildable volume and a lasting effect. When our experts tested this mascara, they were surprised at how well the product works- the skinny brush captured even the short lashes while the wider brush created such volume. We can't wait for spring especially with our new, plump lashes
We have heard great things about the latest beauty trend of face sheet masks and we have been hoping to try it out. Traditionally, masks come packaged in jars or bottles. Recently they are now packaged as liquid based face-shaped sheet fabrics soaked in liquid product. Due to the cold weather outside, our faces have been extra dull and dry and are in need of a good facial treatment. That's why we were excited to test the AprilSkin Mermaid Hydrogel Mask. The gentle formula consists of green tea, aloe, natural oils and cooling agents that sooth and hydrate the skin while addressing problematic skin issues. This mask also repairs wrinkles and fine lines with its brightening agents. The product contains hydrogel and betaglucan that moisturize your skin for up to 120 hours!
To use the mask, we placed the sheet comfortably on top of our faces, making sure it covered all areas. Then we curled up in front of the television with a glass of wine and relaxed. Thirty minutes later, the mask was dried. We gently removed it starting from the bottom. There was remaining product left behind, so we rinsed it off with warm water. We could not believe how much brighter and lighter it left our skin!
A few days later, we tested the AprilSkin Mummy Mud Mask. Though this treatment is safe for all skin types, we believe it is especially ideal for oily skin because the mask controls the excess sebum that builds up on your face and unclogs pores. The formula contains Hawaiian clay from an actual volcanic eruption! These natural minerals gently remove the dead skin and impurities from your face while also nourishing it. It also contains green tea extract, which protects your skin from environmental pollutants; Calendula flower extract, which rejuvenates skin elasticity, and lastly Kaolin that clear unclog pores.
Since the AprilSkin Mummy Mud Mask is also a sheet mask, we were able to again relax with using the treatment. This time, though, we made a fruit smoothie using the Vida Glow superfood beauty blend. Thirty minutes later, we removed the mask to find our enlarged pores had vanished. It even pulled out the smallest blackheads from our nose! Since the mud works as an exfoliator, it also softened our skin texture as well.
Another product we tested was the AprilSkin Magic Stone Soap. It is a 100% natural soap made with charcoal to cleanse sensitive skin types. It also made with natural ingredients include shea butter, sunflower seed oil, coconut oil, caster oil, and sulfur. Our experts were impressed by the soap's sweet fragrance and how nicely the scent left behind on us like a perfume. After our wash, our bodies were left feeling so fresh and so clean.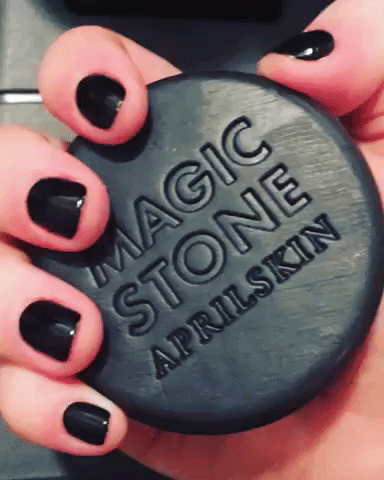 MyTopFace (MTF) beauty hack: It is important to keep your makeup tools clean and hygienic so dirt and bacteria won't make its way to your face! No need to pay extra for a makeup brush cleaner, though. The AprilSkin Magic Stone soap is so mild that you can even use it to wash your makeup brushes. Hold your brush under warm water, and wash the bristles gently with the soap for 60 seconds. Leave your brush to air dry.
After washing, our experts then tested the Magic Snow Cream, a natural whitening cream that provides a light and clean complexion instantly. It is made with Himalaya glacier milk that nourishes the skin and stimulates the skin metabolism. Its light, creamy texture makes for a great moisturizer and makeup primer. To use, we applied the treatment to our skin gently patting it in. We found the Magic Snow Cream did work to lighten our complexion and even made our makeup last longer!
Then our experts tested the AprilSkin makeup line. The Rose Glam Moisture Cover Foundation is an all-in-one brush, mirror, and foundation. We adore its packaging because sometimes we apply our makeup on-the-go. The foundation is made with naturally derived ingredients including rose water, which moisturize your skin while allowing for the makeup to last longer. The brush is built with soft, fine bristles that allow for a velvetycomplexion with high coverage. Our experts found the balm-type makeup covered all of their skin issues while creating a healthy, natural look.
Last but not least, we tried the AprilSkin's Water Coating Tint lip products, which we love! These moisturizing lip products are made with natural ingredients like Rosa Canina Fruit Oil, Kiwi Fruit Extract, Chamomilla Recutita Flower Water. The waterdrop applicator allows for an easy, precise application. To use, we first applied a small amount of the product to the center of our lips and then filled the color into the rest of the area. We found each color to be so different, but essential. We use the Papaya Rose for everyday wear; the Chateau Rose for date night and Vampire Rose when we want to make it a statement or catch someone's eyes!
AprilSkin is an expansive, diverse brand that has amazing products whether in the makeup, skincare or beauty tools department. We noticed immediate results from their sheet face masks which were also fun to use. Their makeup line is healthy for the skin but also provides long-lasting wear with complete coverage. We have officially added AprilSkin to our daily beauty and makeup regimen!