Our expert met with Nina – a professional esthetician and coordinator for UltraLuxe at D'mai Urban Spa in Brooklyn. MyTopFace Expert tried customized facial and interviewed Nina about the brand, products, and her beauty hacks!
Tell us about yourself and how did your beauty journey begin? 
– I started my career as an esthetician 10 years ago and have used the UltraLuxe line since 2008 on my clients as well as myself.  I hold a Bachelors Degree in Education, which has served me well as an educator and event coordinator for UltraLuxe.
Today you are providing customized facial treatment/procedure for our expert – please tell us more about it.
– I always customize my skin care treatments and use the most appropriate products for different skin type and condition. First I assess what would the best for my client's skin. UltraLuxe is a professional skin care line; we carry 7 different cleansers, large variety or moisturizes and serums. It is very important to visit an esthetician at least once per month to make sure you are using the correct skin care. Skin changes weekly due many factors: the weather, hormonal changes, diet, emotional state etc. and so we must change our skin care products to accommodate those changes. I love to begin my facials with UltraLuxe's COLD PRESSED oil-based cleanser, Nourishing Wash (made with pomegranate and verbena cypress), removing makeup with Fresh Eyes (made with carrot extract to strengthen eyelashes), then a second cleanse with Acai Wash(made with wild acai berries) to refresh and wake up the skin.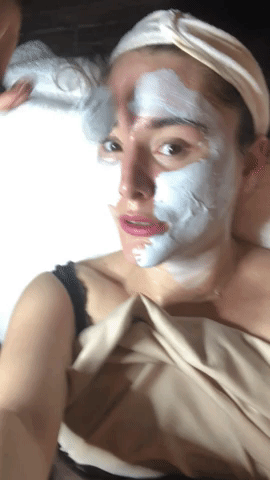 My next step was clarifying with our unique Triple Action Organic Scrub (made with flaxseeds and lactic acid that help penetrate deep into the pores and clean from the inside), followed by Seaweed Liposome Gel (made with vitamins for the skin, such as C, E, B5) with Omega-3 Repair Complex for Sensitive Skin. Our Green Tea Acid Peels are famous for their special formula. They come in 6 levels, from 3% to all the way to 32% (professional use only). They encourage collagen production. Skin looks glowing and polished, healthy and not damaged. We use only natural and organic products but we also have anti-aging Snake Venom, the Microvenom Collection, which is a great alternative to injections. Today we focused on clarifying and hydration to bring a  celebrity glow back.
How often should people do facial?
– You can do facial every week if allows. Normally estheticians suggest once a month. I create professional skin care regimens for my clients on a daily basis, it makes their routine easier.
What other services do you specialize in?
–  I love skin care services, body wraps, body exfoliations, back and bikini facials. I offer Brazilian hard wax for females and males, eyebrow shaping, makeup, 3D Microblading, nail services (ingrown nails), anti-cellulite treatments, lymphatic drainage technic, energy healing.
What product did you apply at the end of procedure? It made the skin of our expert less irritated. But after that she noticed her skin became soft like baby skin, please elaborate.
– We did an Ultraluxe Green Tea Acid Peel with Blue mask and Seaweed Liposome Gel, Omega 3 Repair Complex and Hydrasoft Cream. The last step was to apply Microvenom SPF 30 made with lavender oil. All products work synergistically together, help balance PH levels and bring skin to a fresh, glowing complexion with no irritation.
Would you recommend clients to do "peels" at home? or at-home treatments may create more problems?
– We created the Anti-Aging Rejuvenating 10% Glycolic Peeling Gel. It is a unique buffered blend of lactic, malic, glycolic, salicylic and citric acid. Very gentle for weekly use by clients. We also offer Professional Peels that must be performed only by licensed estheticians.
Is this treatment safe for all types of skin?
– Absolutely. Its great for anyone, unless a client has a certain allergy to nuts or seaweed. We can always refrain from using a particular product in a facial. A client should tell their esthetician of any allergies.
Is this safe for breastfeeding and pregnant women?
– There are certain products I would absolutely use for pregnant women, such as nourishing wash, acai wash, bergamot wash, soya wash, enzyme peeling cream, triple action organic scrub, omega -3 repair complex, hydrasoft lotions and creams, youth, bright eyes, oxygen eye cream, visualift, irritation relief, cellular patch, aromasol mist toner, seaweed liposome gel, all UltraLuxe masks.
When you apply products with your special massage technique how often your clients fall asleep on your table?
– My clients falling asleep right after extractions. Usually, my facials are one hour or hour and a half of lymphatic drainage massage. Facials are very beneficial for stress relief, hormone balance, energy healing, and anxiety. We often hold stress around our eyes and jawline; it is #1 reason why we age and see wrinkles. Our muscles should be relaxed after a facial.
Tell us about your beauty secrets/hacks?
– I love to sleep with UltraLuxe masks overnight. I use Active Mask and Blue Mask over our acid peels. I use our omega 3 repair complex. Our Omega 3 and BB oils are great for hair, eyelashes, eyelid hydration overnight, great treatment for dehydrated lips. UltraLuxe's omega 3 repair complex is known as the "liquid gold" for 20 years.
What are your favorite products?
– Every and each of UltraLuxe product is my favorite! I cannot live without this line, it was the main reason why I joined the company a few years ago and decided to leave other luxury brands. I love absolutely all cleansers and masks, toners, vitamin products, creams and serums. My #1 eye cream is Bright Eyes. I do make-up as well and it is very important to find an eye cream which is not too rich to hold eyeshadows and not to mess the lines. Neck and décolleté cream is great for the whole face too. It is made with SPF and a double dose of Microvenom formula. It brightens and tightens my clients' skin twice as fast as any other cream. I add a tiny drop of UltraLuxe's Retinol Renewal into everything I do as well to enhance the treatment.
You mentioned that you like blending oils with products – what's your favorite mix-in winter-time?
– I suggest everyone use seaweed liposome gel sensitive with omega 3 repair complex this winter twice a day with any creams and masks.It will help to stay hydrated and nourished. Enzyme peeling cream is great for nourishing as well, not only for exfoliation.
What's your daily beauty routine?
– I use Acai wash every morning religiously, sometimes I like to keep it in the morning on my skin for 15 min to provide deep exfoliation, seaweed liposme gel for acne, a clear line has higher vitamin C, I use it twice a day as well as Aromasol mist. If I break out I like to blend Berry mask, Green Tea mask or Mud Lavender into my moisturizer because I have super oily skin and like to have matte skin, it also protects my skin from the environment and helps to control sebum production.
It was a great experience, MyTopFace expert is extremely happy with her visit to D'mai Urban Spa. The Spa has a great, friendly atmosphere and professional staff!