MyTopFace experts are so passionate about beauty that sometimes they make their own masks and scrubs from scratch. But who has time to spare in creating an all natural product when you can get it delivered to your front door!  Smoothie Beauty is a fresh, organic food-based skincare brand that is 100% preservative, additive, and fragrance-free. They create face masks made with the finest natural ingredients and thoughtfully blended for maximum effectiveness. These masks are safe and healthy enough to eat!
Using ethically sourced ingredients both locally and from all over the world, Smoothie Beauty thoughtfully blends individual Fresh Faced masks and delivers them to you fresh, chilled, and ready to use. Chilled? Yes! Our MyTopFace experts were skeptical at first, but with so many different masks on the market, these fresh chilled ones really stand out.
Inspired by her grandmother, the founder of Smoothie Beauty feels fresh food-based ingredients are key to natural anti-aging beauty secrets. A true skincare solution that stands the test of time from centuries before.
Smoothie Beauty offers a bunch of Fresh Face masks and even boosters. With so many choices, our experts tried these 3 masks: Earth, Tropics, and Goddess.
First up our experts tried Earth Fresh Face mask, which is all about protecting. It is a medium thick creamy consistency and made from whole milk greek yogurt, blueberry, cold-pressed tigernut oil, rosemary, and chia seeds. After applying this mask and relaxing for about 15 minutes our skincare experts found their skin felt softer and looked more youthful. It is good for all skin types but especially perfect for inflammation and anti-aging. And the best part is Smoothie Beauty has partnered with One Three Planted and will be planting a tree for every Earth Fresh Face mask purchased. Wow!
Next up was the Tropics Fresh Face mask, which is for balancing. It is a mark that acts like a great natural peel that leaves skin feeling fresh. A wonderful escape from the everyday rat race, this mask balances and resets tired skin. Made of banana, papaya, pineapple, and raw honey, this medium-thin and pulpy mask is better than Botox! The natural enzymes dissolve dead skin and leaves you with smooth skin. Safer than a chemical peel, this mask will leave your skin feeling super squeaky clean. All skin types can use this, but it is perfect for oily skin.
Finally, we tried
Goddess Fresh Face Mask
for Anti-ageing. Made from whole milk greek yogurt, raw active manuka honey, lemon juice cold-pressed extra virgin olive oil and vanilla bean, this really is great for all skin types. It was silky smooth and smelled like dessert. Our experts found their skin felt refreshed and more youthful. after rinsing.
Each of the packets contains enough for 2-3 treatments depending on how thick you apply. And because they are preservative free and fresh they have expiration dates stamped on them.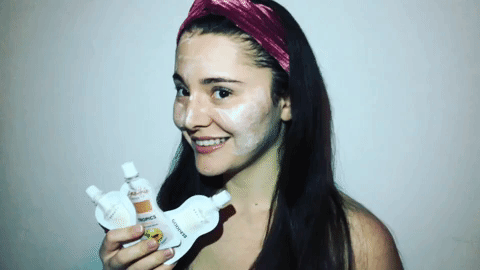 Overall the MyTopFace skincare experts found these food-based, rather than chemical-based masks, were a straight-forward approach to a
healthier glow
. So sit back and relax while Smoothis Beauty blends you the perfect mask!