Both men and women have been infatuated with all things shiny and gold since the dawn of civilization. The gold leaf trend that has taken the beauty industry by storm has come back yet again, but this time it has embarked on the world of fragrance. Ilana Jivago, the creator of Jivago, created a line of gold leaf fragrances that are meant to inspire women through the persuasive message, positive vibes and remarkable beauty that Gold naturally exudes. Every year hundreds of fragrances are introduced to the market with hopes of being showcased and honored at The FiFi® Awards a prestigious awards ceremonies that honor the very best fragrances that the world has to offer. At the 2012 FiFi® awards, 24k competed and, not surprisingly, won the 2nd place prize in the Fragrance Hall of Fame, an amazing accomplishment for Ilana Jivago and the Jivago fragrance brand.
24K Gold
This beautiful fragrance has an elegant, beautiful and feminine floral blend, that is reminiscent of what it's like to fall in love. The rich and precious, 24 karat gold that is the main attraction of the perfume will adorn the women who wear it with a taste for timeless elegance. JIVAGO 24K Gold has a modern floral blend that showcases the romantic marriage of Asian Jasmine and Tuberose, surrounded by more flowers such as Bulgarian Rose, Lily of the Valley and Orris. There is a final note of Amber at the base of the fragrance gives it a grounding finish. This makes the scent reminiscent of true everlasting love.  JIVAGO 24K Gold is infused with real 24 karat gold as its essential element of the composition for active and harmonious vibes. The little gold flecks can easily be seen from the perfume's clear falcon shaped bottle that sits perfectly in a frosted crystal base. What an interesting and lovely display, but the real question is, does Jivago 24K Gold actually deliver?
We at MyTopFace can all agree that yes, it really does. Its initial scent is strong and prominent, yet it also somehow feels very lightweight on the skin. We love the fact that little gold flecks actually spray out onto your skin along with the incredible sight of the fabulous bottle. The gold leaf flecks are subtle, but they give your skin a gorgeous glow that only 24K Gold could give you. We at MyTopFave noticed that you only need one or two sprays of the fragrance at a time in order to smell like love itself all day long. To be clear, we at MyTopFace want you to know that this fragrance is not a glitter perfume to wear when you go to a party or clubbing so please do not buy Jivago 24K if that is what you are looking for. We at MyTopFace find it interesting that there is a sort of weird creaminess to the notes of 24K that remind us of whipped cream or soufflé, that you'd fold with a spatula instead of stirring with a spoon. Some people may call the perfume's richness stuffy or musky, but we promise that it's nothing like that at all. This is a scent with a lot of complexities that you can't identify with just one spray. The notes are complement each other very well and add to the overall luxurious experience when trying out the fragrance.
MTF Hack: If you want your perfume to last longer we at MyTopFace have some suggestions on how to get the most out of your fragrance. Store your fragrances in a dark cool place to keep the scent potent and vibrant. Put vaseline or an unscented lotion over the areas you like to spray your perfume to ensure that it lasts at least a full 8 hours. Lastly, if you are in between washes and want your hair to smell better spray your fragrance onto your comb or brush instead of directly applying it to your hair, this will ensure that the alcohol from the perfume won't dry out your hair.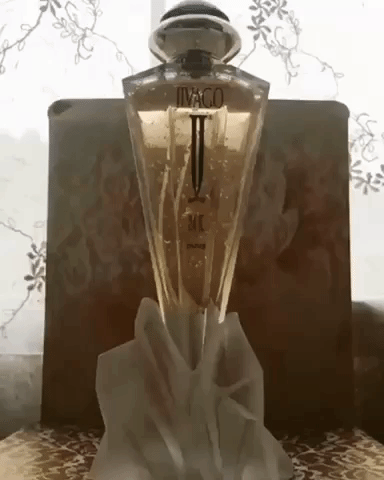 We at MyTopFace believe that if you are the type of person to enjoy fruity or floral scents, then you will absolutely love this one. This perfume is nothing like the classic powdery scented perfumes that our grandmothers used to wear; however, this fragrance is very modern and even ahead of its time. So if you're the type of person who is looking to smell like bubblegum, then this is not the fragrance for you. We at MyTopFace can agree that this scent makes you want to travel back in time to when women were ladies, men were gentlemen, everyone dressed to the nines every day, and a romantic date meant having a picnic on the beach while watching the sunset, and not Netflix and chill.  We forgot to mention that the 24K perfume has an earthiness to it that is from its notes of Orris Root. We at MyTopFace are here to tell you that you won't be disappointed when purchasing this perfume. This is a perfume for grown women who know what they want in life, and in their fragrance, as well as knowing how much and when to use it. We at MyTopFace don't do many perfume reviews, but deep down we are the type of people to own not just one bottle of fragrance, but multiple bottles that we rotate depending on our mood, the time of year, the occasion, and even depending on what we are wearing that day. So that with being said you can be sure trust our opinion when it comes to fragrances.  We at MyTopFace are firm believers in experimenting with scents. We believe in always switching up our scents, trying a new one, and even layering several together to create our own perfect and unique scent that is distinct to us. We are very excited to be adding such a gorgeous bottle and perfume to our fragrance inventory.